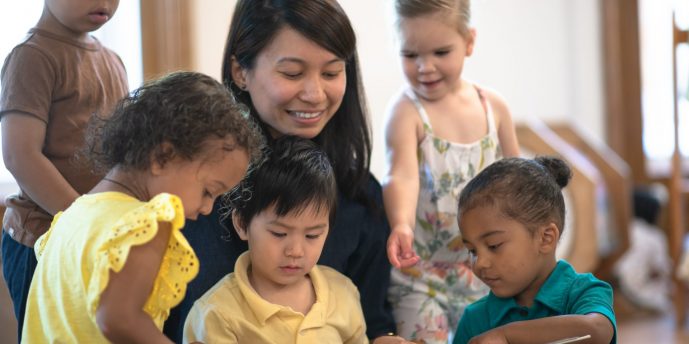 Blog post published by Dr. Kimberlee Belcher-Badal and Diana Diaz with The National Registry Workforce Alliance
Registries: The Workhorse of Professional Development Systems
Today 1.8 million people are registered in the nation's network of Early Childhood and Out-of-School-Time Professional Registries. Those registries, their leadership and staff, are integral to the Early Learning Professional Development System infrastructure in states and territories. They provide timely, responsive support to the early childhood workforce through common and essential services and functions. Across the country, registries are unified and strengthened through membership in the National Workforce Registry Alliance (NWRA), a national, non-profit organization originally founded by the registries themselves. Today, registries serve as the Emergency Broadcast System for this industry. As partners, we are the central hub facilitating access and information exchange to and from the workforce. Together we support all members of the ECE Workforce by collaborating to strengthen registries, aggregate data about professionals caring for children, and steer bi-directional information exchange to encourage data informed decisions, policy priorities, and equity accountability to support them.
A significant biproduct of the Workforce/Registry/NWRA relationship, and output of their service functions, is the co-creation of the industry's leading cross-sectional workforce dataset. Data collection is supplied directly by workforce members and verified by the registries* (degrees of verification vary by state). This aggregate workforce dataset is the largest, most comprehensive Early Childhood & Out-of-School-Time (ECE & OST) workforce data collection in the country, encompassing over 466,000 people caring for children in 2021. In the last decade, field representation has increased 700%; growing from just under 60,000 workforce members in 2009 to including over 466,000 people in 2021. The dataset's reporting capacity potential in 2021 was over 800,000, had an additional 12 states contributing their state's workforce data.
Beginning in 2009, when 47% of the country utilized Professional Registries in 24 states, to 2022 when 85% of the country operated a registry in 44 states (not including 5 states building registries) data saturation accelerated. As workforce and registry participation increases every year, by 2025, the dataset is anticipated to draw up information from 25 states, with nearly a million members of the workforce included. Today, 38 states require registry participation for QRIS and 20 states for Child Care Licensing. We anticipate establishing the industry's only nationwide longitudinal dataset reflecting actual people and their near real-time data in the next decade.