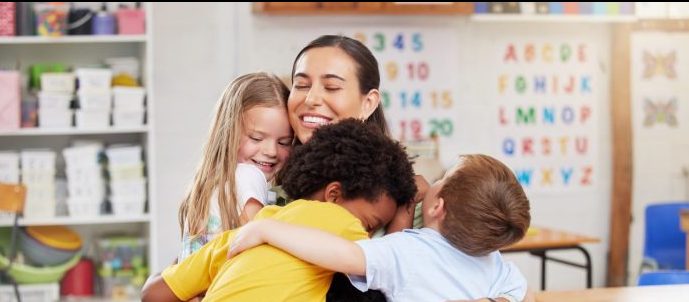 Blog post published by Diana Diaz with The National Registry Workforce Alliance.
After unpacking more about the power of Early Childhood & Out-of-School-Time workforce registry data and providing information about the national aggregated dataset through our previous posts, it was imperative that we delve into why this data is crucial to inform policy, strategy and investments that strengthen and provide equitable opportunities for the workforce. Below are some insights and reflection questions to explore as we seek sustainable solutions with a well-represented workforce voice at the center of all.
The data reflected in the national dataset is provided by the workforce and entrusted to registries.
Registries are built to be the system of coordinated reporting, to supply bi-directional information, and to offer targeted services to meet the professional needs of early care and educators. Without registries, the early childhood and out-of-school time workforce would need to navigate multiple systems for preparation, compliance reporting, to seek professional support, and to inform progress on quality initiatives.
Workforce data systems have evolved to provide opportunities for growth from entry through advanced levels, becoming the system of trust for the workforce to inform, report, and receive targeted services for their professional growth. The data is produced from these collaborative efforts -led by the workforce and supported by registry staff-can help paint a solid picture of the demographics and needs of our diverse professionals. The use of workforce registry data signals to the early childhood professionals how important their participation is, as they demonstrate their commitment to strengthening the early care and education workforce.
The data provides insight into the early learning workforce serving a wide variety of settings and roles.
In contrast with other data available depicting the workforce, the NWRA dataset is disaggregated by role with the largest sample/cell sizes for each data element (i.e., we can more easily compare workforce by multiple characteristics—role, setting, race, ethnicity). This allows us to engage in deep analysis across ECE settings and compare it with the data available of professionals serving at the elementary school level (i.e., credentials, wage, benefits, hours and months of work, location to determine cost of living).
Career-related data is verified.
Compared to surveys, the data is verified and protected using NWRA's quality benchmarks known as Partners in Employment Reporting (PER).  PER is a self-study process designed by the NWRA to help registries demonstrate their commitment to established standards for registries and best practices for policies, procedures, and data collection.
The data can be cross-examined with equity-related data available through registries and other sources. The national dataset can be harnessed to identify gaps and opportunities across a broad cross-section of the issues affecting the wellbeing of the workforce. We can also use data from the national dataset and other sources to determine how well the needs of children of every diversity are being met.
The longitudinal national dataset provides benchmarks to measure progress in both the education and compensation of the workforce and innovative initiatives such as QRIS, scholarship, and wage incentive programs. The national workforce dataset can inform us about what is working, what is needed, and where to prioritize investments.
The dataset can also be used to look at state-level policies since it has the ability to compare registries, particularly those that are required, that may not be as easily done with other datasets.
Data equity is central to the mission and vision of the NWRA.
As the NWRA continues to live its commitment to equity in every facet of the work, we invite you to think with us on how to best support the workforce together.
What are some of the ways you could use the existing data infrastructure, its functions, workforce access provided through registries to implement innovative approaches to research, funding, community organizing, career advancement, and systems building?
How are existing data systems and infrastructure further alienating or compounding power imbalances and inequities?
We invite you to read this guidebook for community organizations, researchers, and funders to help us get from insufficient understanding to more authentic truth provided by Chicago Beyond. The guide names seven inequities held in place by power, and calls out Seven Opportunities for Change.
Special thanks to the NWRA's members of the advisory and standards & data committee for their contributions to this post. For more information, contact: Diana Diaz at stateta@registryaliance.org.